A cupboard full of Regency knick-knacks
---
In this section of Mrs Darcy's Story Site you'll find all sorts of little pieces of information on the Georgian and Regency era. Through the years Mrs Darcy has collected quite a few books that contain such entertaining information that she feels it should be shared... And, as you know, that's exactly what Mrs Darcy likes to do best: entertain you.
If you have information yourself on any Regency/Georgian subject you would like to share - facts, figures, an interesting anecdote, etc., don't hesitate to post a message in the message forum here. Subsequently Mrs Darcy will post it on this page.
---
Sue's ever-growing Regency Encyclopedia is a fabulous reference for research the late Georgian - Regency Era. It contains many educational and entertaining modules including:
Over 15,000 historian statements in the fact database, sorted by category and searchable by keyword.
Interactive maps for time and distance calculations and a tour of Regency London augmented with contemporaneous prints of famous locations.
A Georgian Name database complete with names used in the late Georgian era. Features include a popularity meter, a brief history of the name and a portrait gallery of famous people of the era bearing this name.
A fashion gallery containing almost 1,700 searchable fashion prints, fashion glossary, searchable fashion color palettes by year or color and a fun dress the doll feature.
Chronology grid of all six novels plus Chapman's character lists and chronologies
Login: MDWriter, Password: Historian (both are case sensitive)
[login: MDWriter password: Historian (remember, the login and password are case sensitive!)]
---
Inexpressibles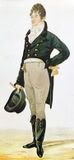 "Did you notice his inexpressibles?>
"What on earth do you mean, Mrs. Darcy?
As some of you know, I'm a translator. At this very moment I translate a historical romance set in The Regency. I'm familiar with most terms and expressions, but I had to scratch my head when stumbling on the term "inexpressibles". It was clear that my dictionary couldn't provide the answer, so I had to search the Internet, where I finally found it on a website of a well-known romance authoress. For those who don't know the term either, it refers to the very tight - and rather revealing - breeches the dandies were wont to wear in that era as you can see on the caricature of Beau Brummel above. Inexpressibles - or unmentionables - left little to the imagination.
Samuel Johnson's Insults...
It is surely better a man should be abused than forgotten - Samuel Johnson
Admittedly, Mrs Darcy sometimes enjoys snubs, sneers, slights and what have you... Did you know that our 21st century in which we think everything can be said, that, according to some, insulting people is a constitutional right, is nothing, absolutely nothing compared to the eighteenth century, when abuse never have been served up with more zest. It was the age of Voltaire whose passion for scolding the stupid landed him in prison for a year. Insolence and contempt were a favoured mode of public discourse. Book reviews were often brutal hatchet jobs. Politics were rough-and-tumble, and it wasn't unusual to accuse an opponent of drunkenness, adultery and worse...
Samuel Johnson's Insults, a Compendium of Snubs, Sneers, Slights, and Effronteries from the Eighteenth Century Master (edited by Jack Lynch) is structured around Johnson's great Dictionary of the English Language, which appeared in two large volumes in 1755. the compendium collects some of Johnson's more devastating and entertaining insults, and gives us a vivid portrait of johnson the Grouch, Johnson the Grump, Johnson the Curmudgeon...
Let's have fun with a few examples...
Fopdoodle (fop and doodle) - A fool, an insignificant wretch

Where sturdy butchers broke your noodle,
And handled you like a fopdoodle. Hudribas, p. ii.

and...

Ragamuffin - A paltry mean fellow

Shall we brook that paltry ass
And feeble scoundrel, Hudibras,
With that more paltry ragamuffin,
Ralpho, vapouring and huffing. Hudibras, p. i
There's a rich variety to indicate fools and idiots, but what about a wittol, a man who knows the falsehood of his wife but seems contented; a tame cuckold, or a milksop, a soft, mild, effeminate, feeble-minded man... etc. etc.
Whilst browsing Mrs. Darcy's cannot help chuckling when her eye catches words such as abbey-lubber, blunderhead or pickleherring. Delightful little book to entertain one's self with in between duties.
Hair jewellery...?
... and Georgiana remained thoughtfully silent, till a new object suddenly engaged her attention. She was sitting by Colonel Fitzwilliam, and in taking his tea from Elizabeth, his hand passed so directly before her as to make a ring, with a plait of hair in the centre, very conspicuous on one of his fingers. "I never saw you wear a ring before, Richard," she cried, "Is that Sarah's hair? I should have thought her hair to be fairer."
Mrs Darcy thought this excerpt from chapter 24 of Elena's "Love Calls Twice" quite intriguing and her inquisitive mind wanted to know more, wanted to see how a ring like that would look like. Well here is an example...
Elena explained that it was customary for a girl in love to gift her lover with a token like a lock of her hair. Gentlemen at the time wore rings, and to make a ring like this was not foreign to them, either with a plait of their mother's, sister's or lover's hair. For instance, Edward Ferrars, in Jane Austen's Sense and Sensibility, wears a ring with a plait of hair stolen from the woman he loves. There were also mourning rings, made with a plait of hair from a deceased loved one, and several other articles in the form of jewellery with mourning purposes. Hair jewellery was a popular sentimental item throughout the 1800s, and was worn by both men and women.
Read more about it here and find more examples here
Puffing Billy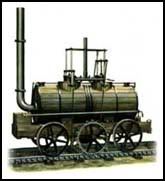 In Jane Austen's novels, and in the fanfiction based upon them, carriages, hackneys and barouches are reviewed abundantly, but you won't read about people travelling by train, for the simple reason that they didn't as yet...
But did you know that by 1814 William Hedley had developed the first steam locomotive for Wylam Colliery, situated on the north bank of the Tyne? The locomotive had two vertical cylinders outside the boiler. Piston rods extended upwards to pivotted beams, which were in turn connected by rods to a crankshaft beneath the frames, from which gears drove and also coupled the wheels. Originally carried on four wheels, the 8 ton locomotive was two heavy for the plate rails, and so to spread the weight on the templates, it was redesigned with eight wheels. Two of these locomotives were still working at Wylam Colliery in 1860.
It was only in 1830 that a steam locomotive was used for passenger transportation: The Rocket, designed by George Stephenson.
You can admire both locomotives in The Science Museum, London.